Whether enabling passengers to tap to pay with mobile wallets or to see the live location of a bus on their phone map, transit is leveraging cellular data and connectivity to modernize and improve the rider experience.
California is making it easier for public transit providers to get the data plans they need through Master Service Agreements (MSAs) established by the California Department of General Services (DGS). These data plans are available to agencies with the pre-negotiated rates listed.
Reach out to us for support at any time as your agency explores these resources.
Table of contents
Getting started
Choosing a data plan
Getting started

Choosing a data plan
Getting started
What is connectivity?
From accepting mobile wallets for fare payments to giving the live location of a bus, transit is using more technology to improve the rider experience. Cellular data is the power behind this new technology. Types of devices may include:
Router
CAD/AVL
Camera feeds
Passenger WiFi
As transit continues to modernize, more devices can be expected to leverage cellular data and connectivity.
How do data plans work?
Your technology can be connected through multiple SIMs (one per device) or a single SIM (one in a router).
Multiple SIMs
Each device could be powered by a SIM that connects to the network. These SIMs would have smaller data plans.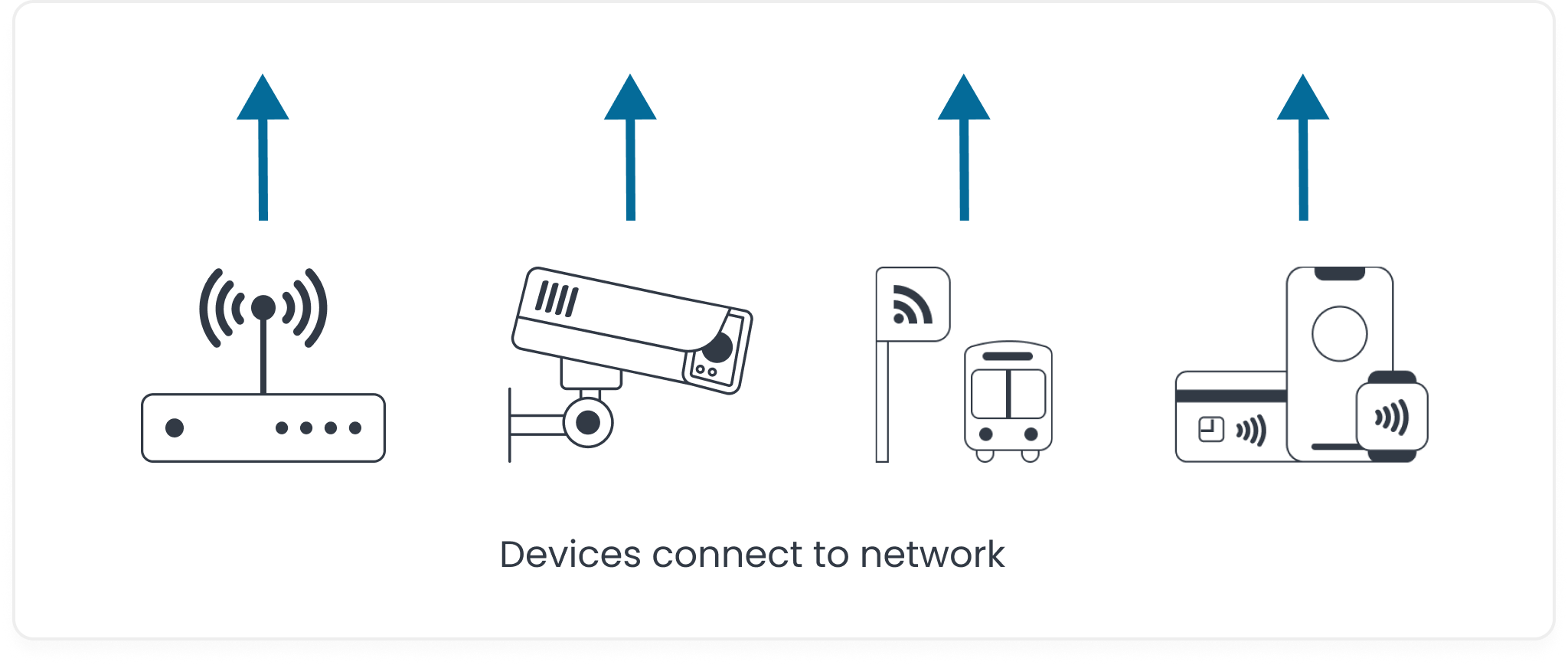 Single SIM
A single router could provide connectivity to multiple devices. The router's SIM would need a larger data plan.
How do I get started?
Cal-ITP will provide the materials and support you need to implement data plans on your fleet. To help us better assist you, we ask that you complete our contact form for Cal-ITP support. With this information, we can determine how best to support you with finding the right data plan for your needs, getting buy-in from internal stakeholders, and engaging with vendors.
After you complete the form, we welcome you to browse this guide to understand the process and your next steps.
Choosing a data plan
Choosing how much data
How much data you use depends on how many devices are on each vehicle. Typical usage for GTFS software and two fare payment validators is 3 GB/month.
1 GB
GTFS-RT or 1 fare payment validator
2 GB
GTFS-RT
2 fare payment validators
Unlimited
GTFS-RT
2 fare payment validators
Cameras
CAD/AVL
Choosing a carrier
We currently have contracts with:
AT&T
FirstNet
T-Mobile
Verizon
Carriers provide different coverage depending on location, so it is important to evaluate which best covers your service area. You can use FCC data to evaluate Verizon, T-Mobile, and AT&T coverage. You can review FirstNet coverage on their website.
Data plan pricing
All four major carriers offer data-only plans that agencies can leverage. You can access data plans in the commercial marketplace or at discounted rates on CalNet or on NASPO.
Note: Prices shown are the lowest available between CalNet and NASPO for that size plan
Carrier
FirstNet


(NASPO)

AT&T


(CalNet + NASPO)

T-Mobile


(CalNet + NASPO)

Verizon


(CalNet + NASPO)

Tiers

< 3,000 SIMs
3k - 9,999 SIMs
>9,999 SIMs
-
-
-
1 GB
$10.00
$7.50
$4.99
$20.00
$8.00
$15.00
2 GB
N/A
N/A
N/A
$23.00
$10.00
$20.00
3 GB
$25.00
$20.00
$14.99
$30.00
N/A
N/A
5 GB
N/A
N/A
N/A
$28.00
$21.21
$25.00
Unlimited
$34.00
$34.00
$29.99
$50.00
N/A
$34.99
In California, transit providers can access the FirstNet plan for their fleets. And Tier 2 prices are now available to all California agencies!
Interested in tapping these rates? Contact us to get started today! Our team is happy to answer questions and guide you through the process.